Seth Thomas Electric Clock Repair
Bill's Clockworks repairs electric Seth Thomas clocks made from the 1930s through the 1960s. We give a one-year warranty on electric clock repair.
Average Prices for Overhaul With One-Year Warranty
Electric clock with Westminster (quarter-hour) chime: $950 - $1300
Electric clock with hour & half hour strike: $750 - $900
Electric time only or alarm clock: $250 - $500
If the motor is bad, add $100 - $150 (often the motor is good, and just needs servicing, included in the pricing above)
Sometimes there are many worn-out gears, which will add to the repair cost. I have to take apart and clean the movement to see how worn the gears are.
These prices apply to repair of the movement. Any case work will be extra.
The motor in a chime clock is often good. The usual reason that these clocks stop running is that there is wear in the bearings caused by many years of use. This wear, along with dried up oil, causes so much friction that the motor cannot turn.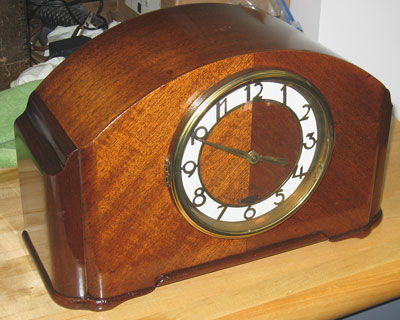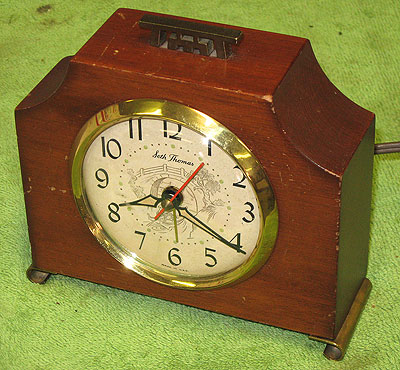 Our repair backlog is about 3 - 5 months. Please contact us about sending a clock for repair.
Packing a Strike or Chime Clock for Shipping
Before packing the clock, put padding around the hammers, gong or chime rods inside the clock to immobilize them. It is important that the chime rods inside be padded so they won't vibrate during shipping (or they might break off). Wrap the entire clock in several layers of bubble wrap. Use a box that gives 2 - 3 inches space around the wrapped clock on ALL sides. Put a 2 - 3 inch layer of foam packing peanuts in the bottom of the box. Put in the clock and fill the space firmly with packing peanuts. There should be a slight pressure when closing the box to keep the clock from moving around. Packing peanuts provide the best support for the clock, I've had the glass lens break when paper filler is used instead.
Note: Many packing places today (such as The UPS Store) don't use packing peanuts anymore. In this case, wrap the clock in bubble wrap 4 to 6 inches thick; then 3 or 4 inches of firmly wadded brown paper will provide good padding between the wrapped clock and the box.