Seth Thomas Windup Chime Clock Repair
A chime clock indicates the quarter-hours by playing a short melody, usually on chime rods, in addition to striking the hours.
We repair Seth Thomas chime clocks. We give a two year warranty on windup clock repair. We also repair Seth Thomas Seth Thomas electric chime clocks.
Seth Thomas windup chime clocks use a variety of movements.
No. 124
The Seth Thomas No. 124 movement can be identified by "No. 124" stamped in the back plate of the movement. The No. 124 was introduced about 1924 and was made up through 1956. These movements are quite common and give good service after being properly repaired. Many that we receive for repair have wear from years of use, or have suffered from poor repair work in the past. Bill's Clockworks can repair it to operate like new, and the average charge to overhaul the movement is $900 to $1200 if there are no damaged gears.
German Movements
In 1956, Seth Thomas discontinued manufacturing the No. 124 movement, and began importing Hermle chime clock movements from Germany. Hermle is still making clock movements today. The best repair procedure is movement replacement, which can be done for around $565 - $700 for many mantel clocks.
Seth Thomas "Legacy 3W"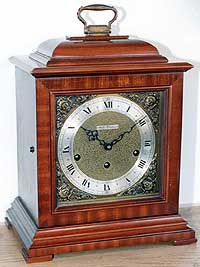 Install new movement: Movement A403-001 (westminster chime). $585 for the new movement and labor, plus $45 shipping and handling (in the U.S.). Add $100 if the clock has triple chimes (Westminster, Whittington and St. Michael.)
To repair the original movement will cost more than the replacement movement, and is not recommended (unless it just needs oiling and adjusting, which will be $225, plus $45 shipping and handling).
No. 113
The Seth Thomas No. 113 was introduced about 1921 and is a large, heavy movement. The number "113" is usually stamped on the back. These movements are very reliable. Their weak point is the strong mainsprings contained in going barrels. If a mainspring breaks, gear teeth might be damaged, so repairs can get expensive. A typical overhaul for a no. 113 movement is $1000 - $1200, if there are no damaged gears. A broken mainspring will add around $250 - $300 to the repair price.
The above prices apply to repair of the movement. Any case work will be extra. We also repair Seth Thomas antique windup clocks.
Our repair backlog is about 10 months. Please contact us about sending a clock for repair.
Movement replacement will not take as long.
Packing for Shipping
Please send the key so I can check how well it fits. I will replace it if it is worn out (I will return the original to you). Please let me know if you need a key.
Before packing the clock, remove the pendulum bob and wrap it and the key in bubble wrap. Gently tape the pendulum rod to the movement to prevent motion, and firmly pack padding around the hammers and chime rods inside the clock to immobilize them. Wrap the entire clock in several layers of bubble wrap. Use a box that gives 2 - 3 inches space around the wrapped clock on ALL sides. Put a 2 - 3 inch layer of foam packing peanuts in the bottom of the box. Put in the clock, and fill the space firmly with peanuts. Include the wrapped key and pendulum bob. There should be a slight pressure when closing the box to keep the clock from moving around.
Seth Thomas Electric Chime Clock Repair