American Antique Clock Repair
Bill's Clockworks is in Flora, Indiana (about an hour north of Indianapolis). Besides local repair work, we are happy to have smaller clocks shipped to us for repair (such as mantel clocks and smaller shelf clocks). We repair pendulum clocks, but not clocks with a balance wheel.
We repair antique American clocks made by Ansonia, Gilbert, Ingraham, Jerome, New Haven, Sessions, Seth Thomas, Waterbury, Welch, and other makers. We believe in keeping your heirloom clock as original as possible and replace parts only when necessary. We give a two-year warranty on wind-up clock repair.
We take the time to repair your clock properly. We disassemble the movement and clean and examine it. We replace overly strong mainsprings with thinner springs to give your clock a long life. We burnish or polish the pivots and bush worn pivot holes. We do other the repairs and clean the parts again, then assemble, lubricate and adjust and test the movement.
We show examples of our repair prices below. The price will be higher if there are any damaged gears. At your request, we will beautify your clock while keeping the finish original. For about $40 - $80, we will clean the case and touch up the finish.
See my clock information blog for examples of clocks I've repaired recently.
There are many excellent clock repair shops out there, a few with even more experience than me. There are a multitude of shops with much less experience with American antique clocks.
Many shops have their own area of expertise and what they enjoy repairing. If you have an heirloom antique clock, you will want to choose a shop that appreciates antiques. Some clock repair shops specialize in modern grandfather clock repair, and are not enthusiastic about repairing antique clocks. They might prefer to discard the original antique clockworks (movement) and install a new battery-operated movement! If your clock is a family heirloom, I'm sure you don't want this done to your precious clock. Discarding the old movement reduces the clock's charm and value. I am fond of antique clocks and relish the chance to restore them to like-new operating condition. Several customers have sent me their treasured family clock, lamenting that someone in the past has discarded the original movement. In these instances, I find an original movement, restore it to working order and install it in the clock. The clock is then like it was originally.
Ratchet gears: Lately, I've run into many antique American antique clocks with damaged ratchet gears (the part that makes the clicking sound as you wind the clock). A worn ratchet can make winding the clock dangerous, as the key could suddenly unwind, injuring your hand. Often I can't tell if the ratchet is bad until I've disassembled and cleaned the clock. I can have a new ratchet made for around $125, and I may decline to complete the repair job if you decide not to have that done, as I don't want to risk a customer being injured by their clock.
Worn Mainwheel Teeth: Now and then, a clock will have severely worn mainwheel teeth (the mainwheel is the gear that the mainspring is on). An overly strong mainspring may have caused the wear over the years. Sometimes the wear is not bad enough to affect the operation of the clock, but other times it causes a rough gear action. To fix this, sometimes I can find a replacement gear from the parts I have from old clocks, and add only about $50 to $75 to the repair bill. Sometimes I have to have my gear cutter make a new gear, which will add about $150 to the repair price. Along with this, I'll install a new thinner mainspring that will cause less wear in the future.
Mainspring Strength: Many American antique clocks were overpowered when they were new (by having very strong mainsprings). I imagine this was to ensure the clock lasted through the warranty period, or else they were just not careful about what kind of mainspring they installed. There was a so-called "standard" American mainspring of 3/4 by 0.018 by 96 inches - but any new mainspring of this strength (0.018 inch thick) is going to cause mainwheel tooth wear. Make sure your repair shop understands not to use springs that are too strong if you want your heirloom antique clock to last so future generations can enjoy it.
Average Prices for Movement Overhaul
American antique time and strike clock: $600 to $750
American antique time only clock: $500 to $650
Add around $125 - $150 if a ratchet or mainwheel needs replacing (as explained above). The overhaul will have a two-year warranty.
Our repair backlog is about 4 - 5 months. Please contact us about sending a clock for repair.
Examples of American antique clocks I've repaired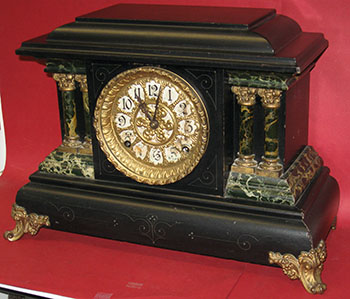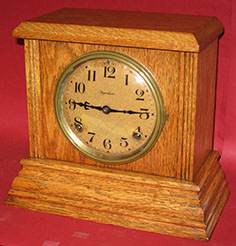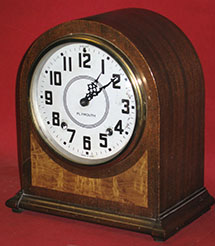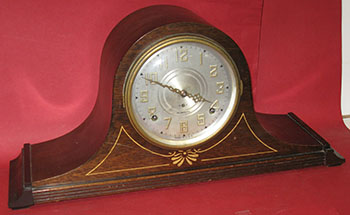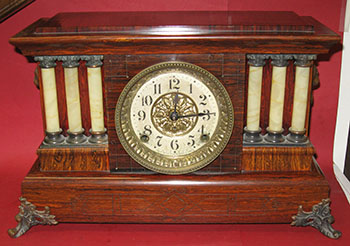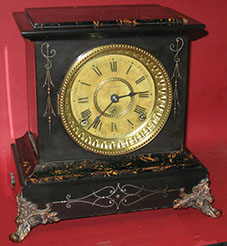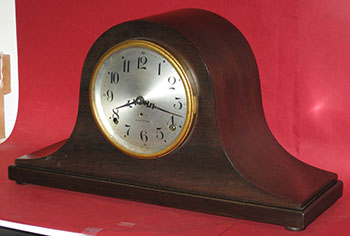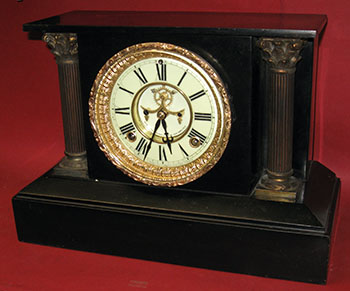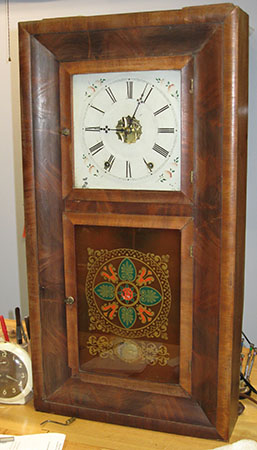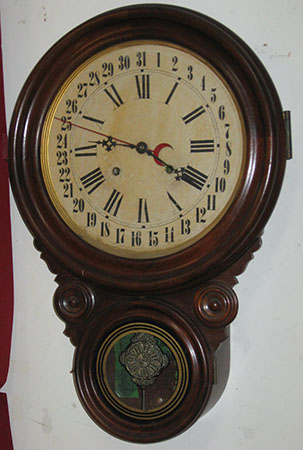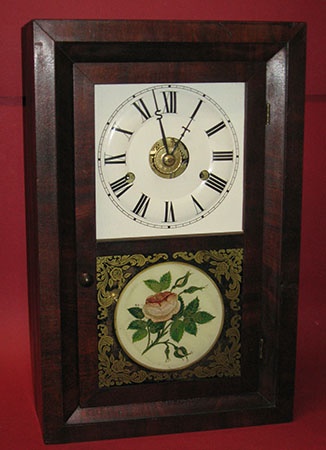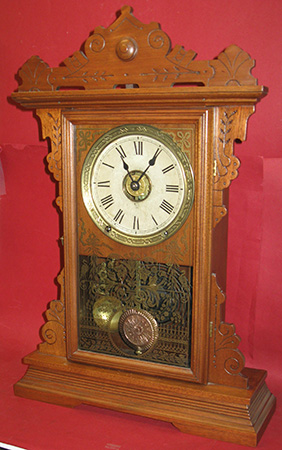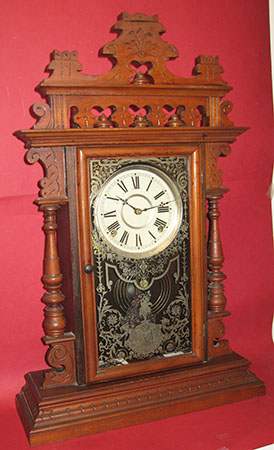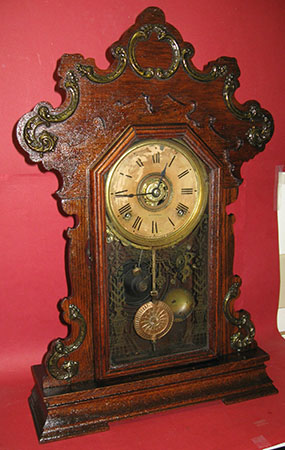 Our repair backlog is about 4 - 5 months. Please contact us about sending a clock for repair.
Packing for Shipping
Please ship only mantel clocks or smaller shelf clocks to us. Larger clocks must be brought in person. Please e-mail us if you are in doubt about sending a clock to us.
Please send the key so I can check how well it fits. I will replace it if it is worn out (I will return the original to you). Please let me know if don't have a key.
If there is painted glass in the front door, please remove the door and don't send it, to avoid the chance of breakage. Usually you can remove four of the hinge screws and the door will come off.
Before packing the clock, remove the pendulum bob and wrap it and the key in bubble wrap. Gently tape the pendulum rod to the movement to prevent motion, and put padding around the hammers, gong or chime rods inside the clock to immobilize them. On clocks with painted glass in the door, it is best to remove the door (and not send it to me) to prevent damage. Wrap the entire clock in several layers of bubble wrap. Use a box that gives 2 - 3 inches space around the wrapped clock on ALL sides. Put a 2 - 3 inch layer of foam packing peanuts in the bottom of the box. Put in the clock and fill the space firmly with peanuts. Include the wrapped key and pendulum bob. There should be a slight pressure when closing the box to keep the clock from moving around.
Note: Many packing places today (such as The UPS Store) don't use packing peanuts anymore. In this case, wrap the clock in bubble wrap 4 to 6 inches thick; then 3 or 4 inches of firmly wadded brown paper will provide good padding between the wrapped clock and the box.
Proper Mainsprings for American Antique Clocks
See my Clock Information Blog for more information about mainsprings for American clocks.
Bill's Clockworks repairs your clock properly so that it will have a long life. Some repair shops are using mainsprings that are too strong for your clock. Here is some information about the proper springs for American antique clocks.
Many antique American clocks have so-called standard mainsprings that are about 18 thousands of an inch (0.018") thick.
A 100-year-old spring that is .018" thick is weaker than a new mainspring of the same thickness.
Some repairers are installing new 0.018" thick mainsprings in the American clocks they repair.
These new springs are too strong for the clock and are causing excessive wear.
Thinner new mainsprings are available. Some new German mainsprings are very strong for their thickness, and a 0.014 or a 0.015 inch thick spring of this type should be used in many instances.
To run reliably with a thinner spring, the clock must be properly repaired by having the pivots burnished or polished, and worn pivot holes bushed.
Clock repair shops that don't charge enough, or don't have the experience, are installing the thicker mainsprings (0.018") to make sure their repaired clocks will run. Even an improperly repaired clock will run with a spring that is too strong, but it will wear itself out!
Bill's Clockworks keeps the original old mainsprings in the clock when possible.
Bill's Clockworks installs thin new springs when the old spring is bad, broken or too strong.
This gives your valued, heirloom clock a long life so generations to come may enjoy it.
Some American clocks originally had thinner springs