American Antique Clock Repair
We repair antique American clocks made by Ansonia, Gilbert, Ingraham, Jerome, New Haven, Sessions, Seth Thomas, Waterbury, Welch, and other makers. We believe in keeping your heirloom clock as original as possible, and replace parts only when necessary. We give a two year warranty on wind-up clock repair.
Bill's Clockworks is located in Flora, Indiana (about an hour north of Indianapolis). Besides local repair work, we are happy to have smaller clocks shipped to us for repair (such as mantel clocks and smaller shelf clocks). We are currently repairing pendulum clocks but not clocks with a balance wheel.
We take the time to repair your clock properly. The movement of your clock is disassembled, cleaned and examined. Mainsprings which are too strong are replaced with thinner springs to give your clock long life. The pivots are polished and worn pivot holes are bushed. Other necessary repairs are made and the parts cleaned again. Then the movement is assembled, lubricated, adjusted and tested.
Examples of our repair prices are shown below. The price will be higher if there are any damaged gears. At your request we will beautify your clock while keeping the finish original. For about $40 - $80 we will clean the case and touch up the finish. For $50 we will polish and lacquer the bezel of a mantel clock.
Our repair backlog is about 8 - 9 months. Please contact us about sending a clock for repair.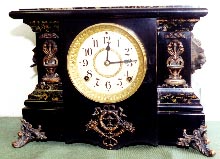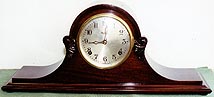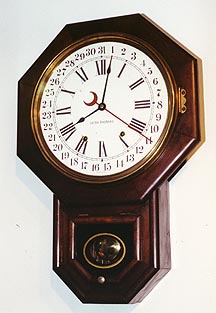 Our repair backlog is about 8 - 9 months. Please contact us about sending a clock for repair.
Packing for Shipping
Please send the key so I can check how well it fits. I will replace it if it is worn out (I will return the original to you). Please let me know if you need a key.
Before packing the clock, remove the pendulum bob and wrap it and the key in bubble wrap. Gently tape the pendulum rod to the movement to prevent motion, and put padding around the hammers, gong or chime rods inside the clock to immobilize them. On clocks with painted glass in the door, it is best to remove the door (and not send it to me) to prevent damage. Wrap the entire clock in several layers of bubble wrap. Use a box that gives 2 - 3 inches space around the wrapped clock on ALL sides. Put a 2 - 3 inch layer of foam packing peanuts in the bottom of the box. Put in the clock, and fill the space firmly with peanuts. Include the wrapped key and pendulum bob. There should be a slight pressure when closing the box to keep the clock from moving around.
Proper Mainsprings for American Antique Clocks
See my Clock Information Blog for more information about mainsprings for American clocks.
Bill's Clockworks repairs your clock properly so that it will have a long life. Some repair shops are using mainsprings that are too strong for your clock. Here is some information about the proper springs for American antique clocks.
Many antique American clocks have so-called standard mainsprings that are about 18 thousands of an inch (0.018") thick.
A 100 year old spring that is .018" thick is weaker than a new mainspring of the same thickness.
Some repairers are installing new 0.018" thick mainsprings in the American clocks they repair.
These new springs are too strong for the clock and are causing excessive wear.
Thinner new mainsprings 0.0165" thick are available.
To run reliably with a thinner spring, the clock must be properly repaired by having the pivots polished and worn pivot holes bushed.
Clock repair shops that don't charge enough, or don't have the experience, are installing the thicker mainsprings (0.018") to make sure their repaired clocks will run. Even an improperly repaired clock will run with a spring that is too strong, but it will be wearing itself out!
Bill's Clockworks keeps the original old mainsprings in the clock whenever possible.
Bill's Clockworks installs thin new springs when the old spring is bad, broken or too strong.
This gives your valued, heirloom clock long life so it may be enjoyed by generations to come.
Some American clocks originally had thinner springs
See my for more information about mainsprings for American clocks.
Our repair backlog is about 8 - 9 months. Please contact us about sending a clock for repair.
See my blog for examples of American antique clocks I have repaired.